Our Appointment System
Everyone can get an appointment at our surgery
Bookings should be made online via eConsult to ensure all your symptoms are listed and presented to a clinician with a recorded date and time. You can contact us on eConsult from 8am to 5pm.
Please do no email us, always use eConsult
Appointments
Practice staff will send you a text confirming your appointment time within the timeframe provided to you on submitting an e-consultation. If you do not receive a text/call from the practice during this time, please call us.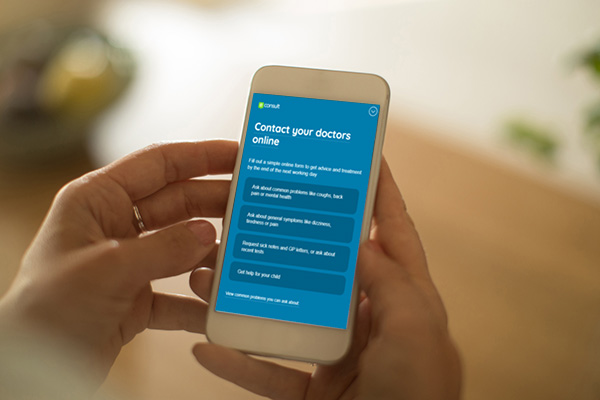 There have been some real positives come out of Covid-19. One of the biggest is the total triage system which will now be used going forward. It is a much more efficient and effective way of dealing with a patient. We are definitely dealing with more patients a day. 95% of patients are being dealt with remotely. We are embracing new technology and adapting our triage system that we had in place. Our new surgery model is:

Online consultation first: if you want to contact one of our GPs, we will ask you to fill in an online consultation form although if you are elderly, vulnerable or have a disability, you can bypass the form. We're making good use of these forms in a large number of cases and it is actually a very short consultation process compared to our 10-minute face-to-face model.
Telephone consultation: if we can't resolve the patient's query through the online triage form.
Video consultation: if we need to see something to triage or make a diagnosis.
Face-to-face consultation: only if absolutely necessary, mainly where we need to physically touch a patient to establish what's wrong i.e. if they had acute abdomen pain
Please note any digital images submitted as part of an online consultation, will be stored within your clinical notes, for this reason, please do not send any intimate images. For further information please see the video opposite. 
Outside normal surgery hours
E-consultations are processed Monday to Friday from 8am to 6.30pm only.  Please do not submit urgent medical conditions by email to the surgery over the weekend. The inbox is not checked on Weekends/Bank Holidays. For medical assistance outside normal surgery hours, please see below:
For help from a GP: You can ring directly our GP Enhanced Service to book appointment with GP. Appointments in the hubs are available every weekday evening between 6.30pm – 9.30pm, and 8.00am – 8.00pm on weekends. GP Enhanced Service can be booked by calling 111 outside hours.
For urgent medical help: use the NHS 111 online service – call 111 if you need urgent help for a child under 5 or you cannot get help online.
For urgent dental treatment: call your dentist or use the NHS 111 online service if you cannot contact your dentist or you do not have one.
For life-threatening emergencies: call 999 for an ambulance.
Booking routine GP appointments
Use eConsult to contact doctors online. This is quickest way for getting doctor advice.                              
For urgent appointments
Only for urgent conditions call us on 0208 527 2563
The Triage Service is intended to help you if you have an urgent medical problem and you cannot get computer or online service. The receptionist will ask you to provide a brief description of the issue to help the doctor who will be calling you back. Your name will be added to the Triage list on the day.
Please note phone lines are very busy so please use e-consult wherever possible. We are also looking at option to add a queue system to the phone lines. In the meantime if you have any difficulty in getting an appointment please email to us via our secure online form or ask to speak to Suzia at the practice. 
Inside the surgery there is no longer a large waiting room, there are just three socially distanced spaced chairs for elderly patients to use. The entrance door is only opened by the use of the intercom so there is no need to touch the door and there is hand sanitizer available on both sides of the door.
Call 0208 519 3999 for our evening and weekend extended hours service